Our mission at Sourcetable is to make data accessible to everyone. To live up to this promise, we're building a next-generation of spreadsheet that is more powerful, more collaborative, and easier to use than alternatives on the market.

More powerful than Excel: modeling in Sourcetable is done directly on top of database data (literally, the "source tables"). By leveraging cloud computing, workbooks are no-longer constrained by row count and advanced queries no longer crash your browser.
Sourcetable natively integrates with most popular SaaS apps and Databases, allowing you to model from live-data by default, create auto-updating reports, and build seamless workflows that always represent the true state of your business.
More collaborative than Google Sheets: Centralizing data, dashboards and analysis in one place is a significant advantage over the fragmented and brittle GSuite landscape (Sheets + plugins + data studio). Sourcetable's integrated solution means that everyone on your team can access and collaborate with data, without needing to learn new skills and tools, or be spread across a variety of applications.
Finally, we've learned that it's not enough to have access to data. To make data accessible, it's equally important to understand the metadata about the data. Sourcetable's contextual UI allows you to answer simple questions at a glance, like "Who created this model? When was it last updated? And what does it connect to?"
Easier to use than BI tools: The third most common button in BI tools is "export to CSV". The reason for this is that people may query data and build dashboards in their BI tools, but they ask and answer questions in a spreadsheet. It's where they do their work.

Sourcetable combines the extensibility and power of BI tools with the flexibility and usability of a spreadsheet interface. No need for a data warehouse, no need for a data engineer, no need to learn SQL. Say goodbye to fragmented workflows.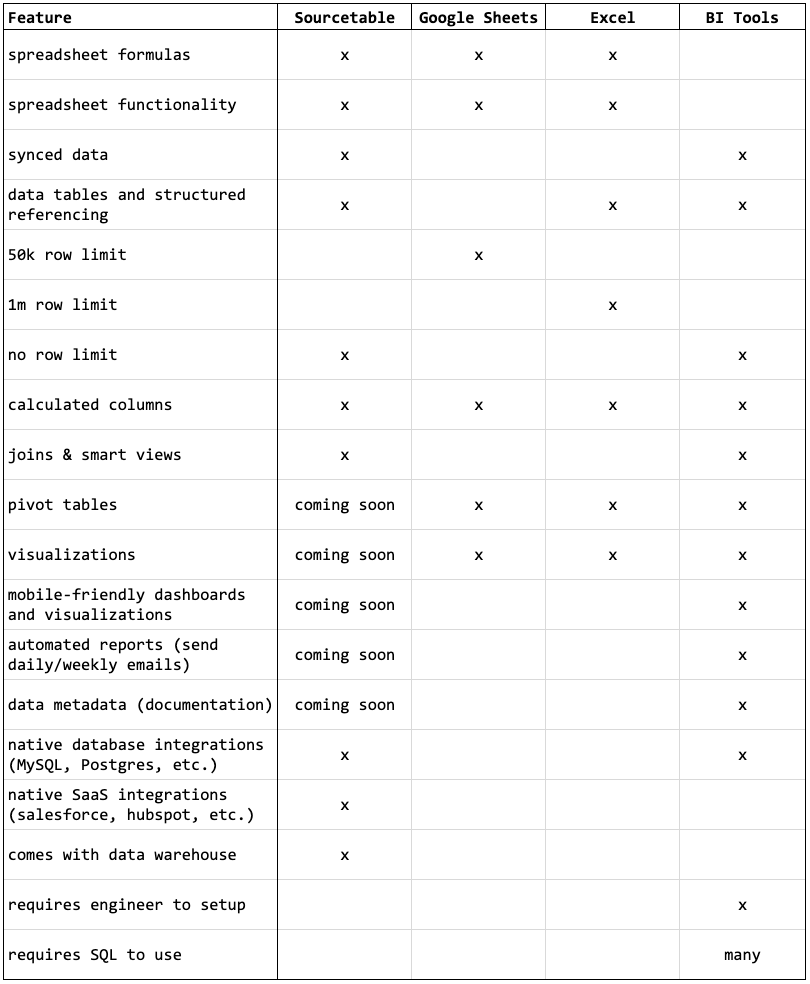 Keen to get started? Sign up now for a free trial.