We are excited to give you the most feature-rich, performant, and reliable Sourcetable release yet! Over the next few weeks, we will be going over each change in-depth to fully understand the changes made to Sourcetable. This week we will be looking at the new data library feature.
The whole process is as easy as can be:
Saved Data Tables & The Data Library
Doing the same thing over and over is nothing short of annoying. Don't you hate it when you create a data table with all of your particular selections, including a filter for this month and then you go to create the same table but for next month? Well, now you can save your data table to use in other projects in your very own data library saving you time and headaches. Want to create a comparison report? You can create one report with the filters, data, and aggregates then save the data table to slightly alter it for your comparisons.
But, what should I save? The short answer is whatever you like. Some popular saved data tables are:
Customers
Orders
Orders-by-SKU
Discounts
Facebook-Ads
Google-Ads
Shipping-Status
Any table you use regularly
If you find yourself doing analysis on the orders table on a regular basis then saving the orders table is a good idea. Save the order table with any aggregates or filters that you regularly use, ensuring that you have what you need next time. Any data table that you are using repeatedly is something that you should save to reuse later.
No more duplication of work. Create a data table once and reuse it infinitely.
How to save your data tables
To save your data table simply click on the gear and click "Publish Table".
Once you click publish template you will see a modal open with your table name. You can change the name in the input field that says, "Table Name" and publish your template privately or publicly.
Once you click Publish Table you will see a modal open with your table name. You can change the name in the input field that says, "Table Name" and publish your template privately to your organization.
To publish privately keep the toggle on the lock icon as you see below:
Your data table is now published. If you selected the lock icon for private then your table will now only be accessible by your organization. The next step is to use your data library to reuse a saved data table.
Accessing your Data Library
To select a saved data table from your Data Library, click on Sources and at the bottom of the right sidebar you will see "Search Data Library".
After clicking "Search data library" you will see a list of your saved data tables where you can select the table that you would like to use.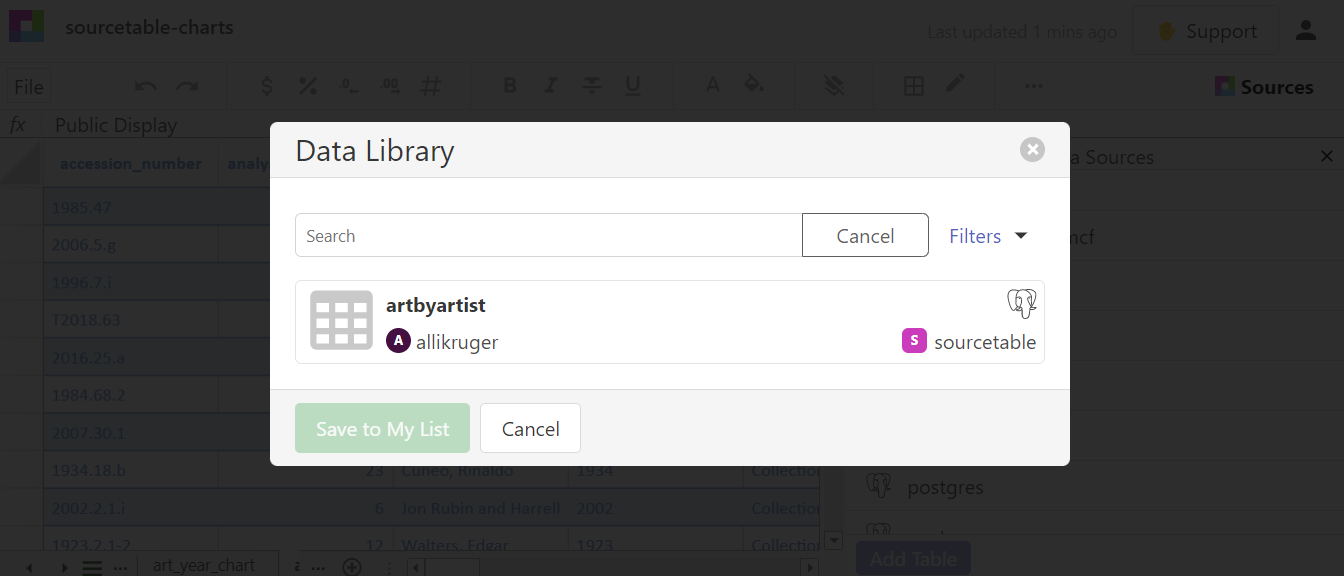 To see more detailed information about the saved data tables, like a list of columns from the data table, click on the name of the table.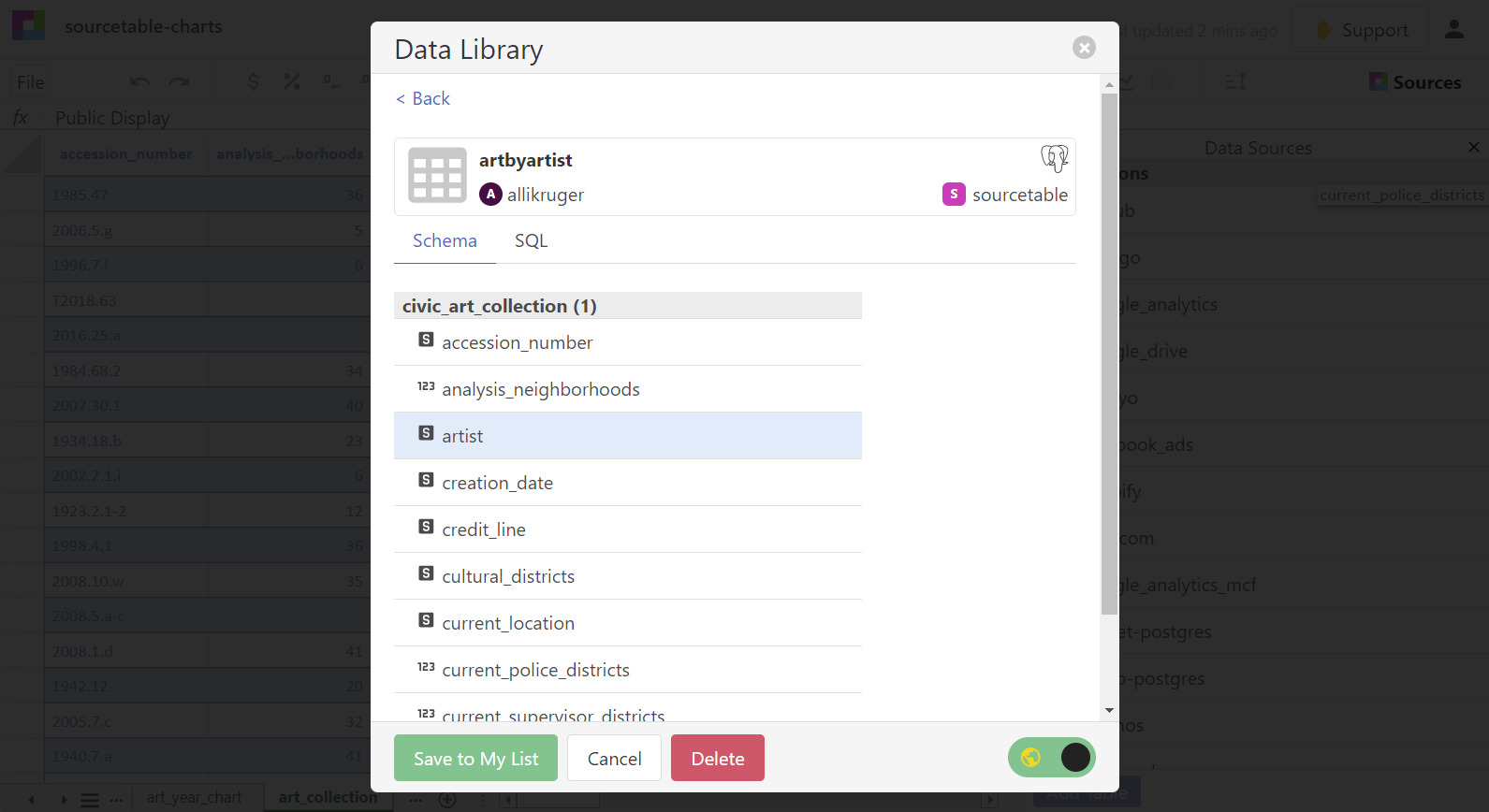 Saving and reusing data tables saves time from repetitive tasks and allows you to do more with your day. Whether you are the data analyst or marketer who is creating the report or the CEO using the dashboard for better decisions the data library is a game changer. Make a table once and reuse it to your heart's content. Don't ever create the same data table again!
🙏 Thanks again and please keep the feedback coming. We love to hear what you need and want to use.
Highlights coming in the following weeks:
Improved Templates
Array Support
The future of spreadsheets is spreadsheets!